Zoomlion Ghana Limited has added to its fleet of vehicles some 500 compacting trucks, to remain the leader in waste management in the country.
The newskip trucks, with the requisite number of containers for efficient and effective operations in the country are also to help resource newly created Municipal and District Assemblies (MMDAs) to properly manage waste within their catchment areas.
The distribution of the newly procured vehicles which is part of an existing contract with District Assemblies across the country, will also help in creating 300 direct and about 1,000 indirect jobs in the MMDAs, Chairman of the JOSPONG Group, Joseph Siaw Agyapong, has said.
Mr. Siaw Agyapong made the announcement on Friday, August 31, 2018, at a ceremony at the Black Star Square, Accra, where 150 of the trucks were outdoored.
"This is part of our expanding strategy to meet the needs of our growing population and rapid urbanization," Siaw Agyapong said.
"Our strategies evolve with our changing needs, and in this respect, we require the support and collaboration of all citizens and stakeholders," he stated.
According to him, "Zoomlion Ghana Limited fully supports the vision of the President, His Excellency Nana Akuffo Addo not only to make Accra a clean city but also to create jobs and promote the private sector."
He noted that the company embarked on a similar exercise in 2015 where some 2,000 compacting trucks and 5,000 tricycles were procured to ensure prompt collection and disposal of waste in the country.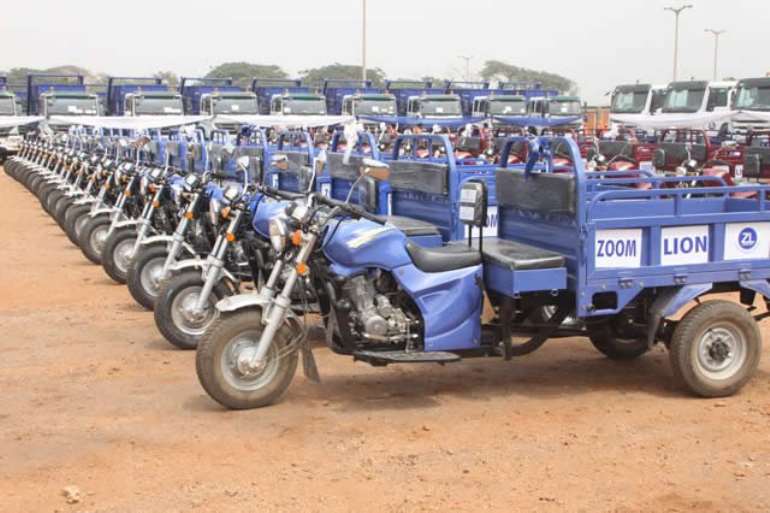 Zoomlion tricycles
The Chairman further announced plans by the waste management company to distribute one million bins to households for effective waste collection.
"We think that giving dustbins to each household would go a long way to solving the waste problem. Alongside this, we are digitizing bins by placing RFID (Radio Frequency Identification) stickers on the dustbins to be able to ensure that bins are lifted every day. This will allow us to know where they are located so that those collecting the rubbish can easily identify or locate the bins. This innovation is in line with the government's digitisation efforts.
"Our teams are working in partnership with the School of Nuclear and Allied Sciences to find culturally acceptable solutions for waste to energy systems," he added.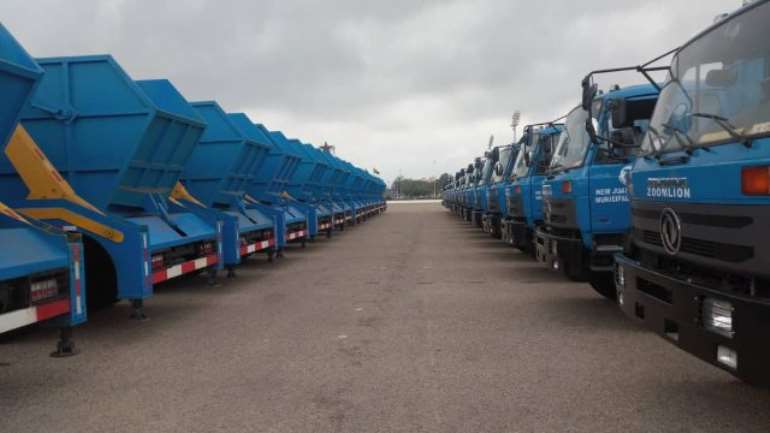 An excited Greater Accra Regional Minister, Ishmael Ashitey, said the distribution of the trucks to the assemblies "comes as a great relief to us charged with the responsibility of manaing wastein the various regions".
Meanwhile, Zoomlion is in the process of introducing mobile compacting equipment to be stationed within specific communities for easy disposal and treatment of waste.
This will ease the pressure on existing transfer stations most of which have exhausted the allowable space, therefore, posing danger to some players in the management cycle.