The National Democratic Congress (NDC) is willing to welcome wife of former President, Nana Konadu Agyeman Rawlings back to its fold if she decides to rejoin. That's the assurance from NDC Member of Parliament for Odododiodoo Constituency, Nii Lante Vanderpuye.
The former First Lady left the NDC to lead the National Democratic Party (NDP) which was a breakaway party from the then incumbent NDC ahead of the 2012 elections.
"It is an individual who should show the desire that I am still available to join the system. If she comes to us and says after some time I have reflected and decided to join the NDC, we will receive her," Mr. Vanderpuye said.
Nii Lante Vanderpuye's comment follows former President John Mahama's decision to pay a courtesy call on former President Jerry John Rawlings ahead of the official announcement of his decision to contest in the National Democratic Congress (NDC) presidential primaries and subsequently vie for the presidency.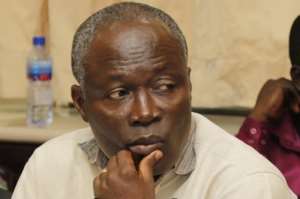 Nii Lante Vanderpuye
The NDC MP indicated that the visit might have been the "beginning of building fences and making sure that strained relationships people perceive exist are wedged together."
Reasons for breakaway
Nana Konadu in leaving the NDC had explained that the tenets on which the party was founded including probity and accountability, had been discarded and replaced with corruption and non-performance hence her decision to leave.
She left the party at a time when her husband, former President Rawlings, was also an adamant critic of the NDC.
Nana Konadu as Flagbearer of the NDP could not realize her dream of contesting the 2012 elections because according to the Electoral Commission the processing of her presidential forms had not been fully completed.
Not even an attempt to get the court to overturn the decision of the Electoral Commission proved successful.
She however believed that the NDC government then, managed to hound her out of the election.